Rain International Comp Plan Summary

RAIN INTERNATION COMP PLAN SUMMARY – 7 WAYS TO GET PAID
1. PREFERRED CUSTOMER REWARDS
Simply refer customers and immediately earn a reward on every box of product those referred customers purchase. Whether you have one person who buys four boxes of product or four people who each buy a single box of product. Paid to sponsoring RP.
2. RAIN PARTNER FIRST ORDER BONUS
Receive a bonus on the first order placed by people you enroll in Rain.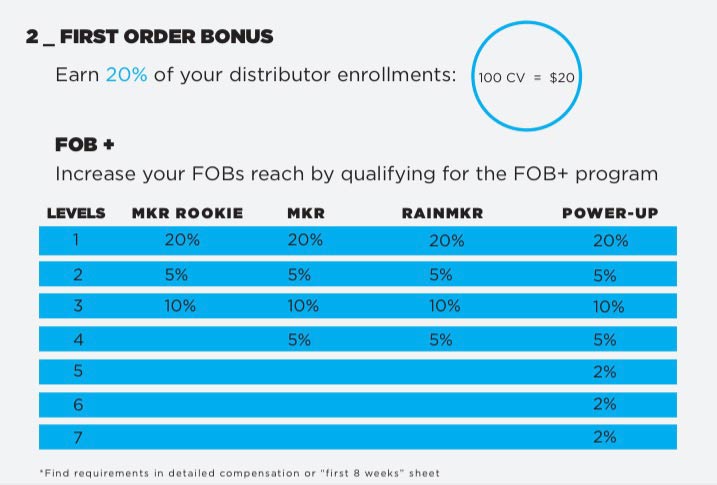 GET UP TO 50% OF CV FROM THEIR FIRST PACK*
*Fast Track Packs increase to 50%.
3. RAIN PARTNER TEAM COMMISSIONS
Be rewarded for purchases made by your binary team legs. You earn 10% commissions on the volume of your lesser team.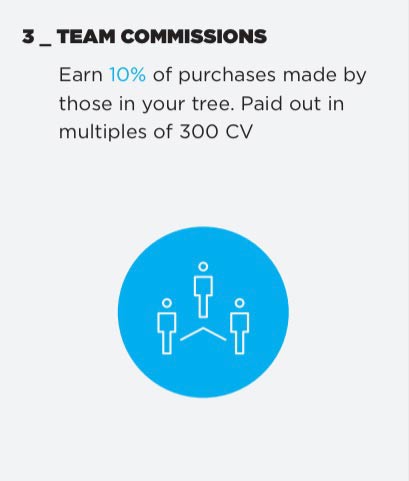 4. RAIN PARTNER GENERATION MATCH BONUS
A rich part of the Rain compensation plan is the Generation Matching Bonus. With this bonus, you earn a percentage of the Team Commissions paid to those in your Enrollment Tree up to 7 generations (not levels) deep.

5. RAIN PARTNERS LEADERSHIP EXECUTIVE POOL
Every RP achieving and having a "Paid As" rank from Bronze Executive to Gold Executive receives a Leadership Bonus. In order to qualify for their Leadership Bonus, a minimum of 100 PVQ is required. The following chart represents 1.5% of Global CV.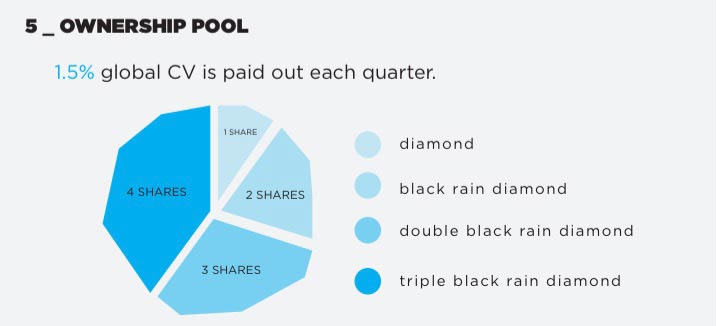 6. RANK ADVANCE BONUS

7. RAIN PARTNER LIFESTYLE BONUS
This weekly bonus is designed to reward you for achieving the top Elite ranks in the Compensation Plan. Simply maintain 200 PVQ during the qualification period, and hit one of the below ranks for the specified bonus periods and you are qualified.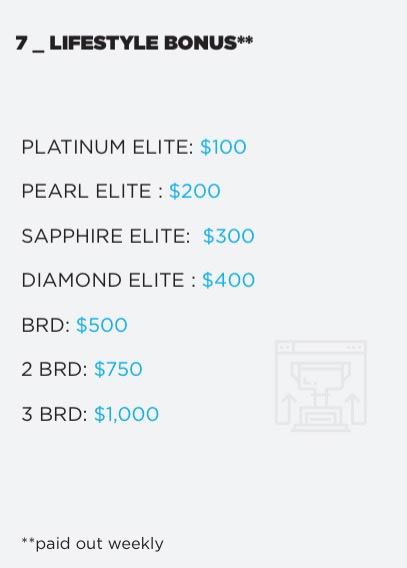 RAIN INTERNATIONAL COMPENSATION PLAN SUMMARY TABLE