Why Rain International?
HOW TO PICK A NETWORK MARKETING COMPANY
No one in their right mind would want to pick a company that is likely to go out of business. Yet many people do. And, even with what I'm about to share with you, there's no guarantee that your network marketing company will last for life.
So…what exactly do you look for when you're trying to pick a network marketing company? There are many things to look at:
Does the company have a good product?
Is there scientific evidence to validate their product?
Is everyone already using what you have?
Are you replacing what they are using or adding a new item to what they do?
Is it the management team solid?
Do they work with integrity?
What is their history and experience?
Is the compensation plan sustainable?
Is the company out of debt?
These are all things to look at when choosing a Network Marketing company! It seems like a lot, but you would not take a job just because your friend or a stranger said so!
With Rain International, we have proven to be the right company, at the right time, with the right product. We are a category creator with a team that has over 100 combined years in the industry. We are a company built by distributors for distributors. But don't just take my word for it if you're not sure how to pick a network marketing company, check out the stats below.
TAP INTO UNLIMITED EARNING POTENTIAL
GETTING PAID AS A RAIN PARTNER
ALL LONG-TERM LEGACY COMPANIES HAVE STRONG
POINTS IN THE BEGINING, MIDDLE AND END OF THEIR
COMPENSATION. RAIN HAS TAKEN IT ONE STEP
FURTHER.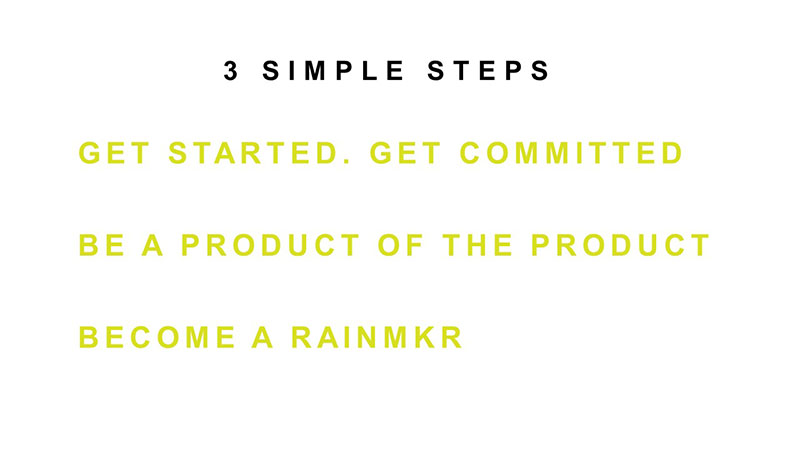 WHEN YOU JOIN RAIN, YOU ARE GIVEN THE OPTION TO SELECT HOW MUCH GROWTH POTENTIAL YOUR BUSINESS WILL HAVE.
BASED ON THE AMOUNT OF PRODUCT
SOMEONE STARTS WITH, THEY WILL GET
1 OR 3 BUSINESS CENTERS
THAT'S $120,000 PER MONTH FROM JUST ONE OF THE SEVEN WAYS TO GET PAID